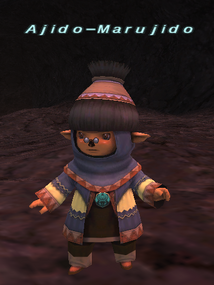 Race Tarutaru
Job Black Mage / Red Mage
Role

Offensive Caster

Weapon Mammet battle stance
Spell Cost

0 MP

Magic Type Trust
Jobs

All Jobs, Lv. 1

Casting Time

5 seconds

Recast Time

240 seconds

Obtained Trust: Windurst
Notes
Obtained by talking with Apururu at Windurst Woods (H-9) after meeting all requirements.
Rank 6 in any of San d'Oria, Bastok, or Windurst required to obtain.
Weapon Skills: none.
Spells: Dispel, Slow, single-target (up to Tier V) Elemental Magic nukes in rapid succession, with a focus on high-power nukes, Cure I -Cure IV.
Notable:

Possesses the same auto-attack as the Mammet family: if the enemy is nearby, he shoots invisible projectiles from his hand.
Nukes based on target's HP: lower HP = weaker spell.
Prioritizes Dispel when necessary.
Casts Cure spells up to Cure IV in emergencies (red HP).
Casts spell that's related to the Bard's Threnody (if wind, casts aero, if ice, casts blizzard, etc.)
Quickly depletes his MP, but becomes more conservative with spell tiers when the enemy's HP is low.
Outside of battle, he can be released and resummoned to restore all of his MP, as long as his recast timer is ready.
Dialogue
Summon: Come! Together we will discover the truthy-wuth!
Summon (with Koru-Moru in the party): What a coincidence to find... you here, Koru-Moru. I'd prefer-wer that we go our seperate ways...
Summon (with Shantotto in the party): D-Doctor Shantotto! I expectaru you know who's on whose side?
Summon (with Star Sibyl in the party): Oh, Star Sibyl! None are more devoted to you than Karaha-Baruha and myself.
Summon (with Semih Lafihna in the party): Semih Lafihna, I trust-wust you can handle things here if something happens to me.
Dismiss: Genius-wenius is never understood in its own time.
Death: I've...failed.