Job: Warrior
Family: Sapling
Crystal: Earth
Weak to: Dark, Fire

Notorious Monster
Zone
Level
Drops
Steal
Spawns
Notes
Batallia Downs
27 - 28
1
L, H
~1,300 HP
??? MP
Nyzul Isle

Floors 61 - 80

1
A, L, H
??? HP
??? MP

A = Aggressive; NA = Non-Aggresive; L = Links; S = Detects by Sight; H = Detects by Sound;
HP = Detects Low HP; M = Detects Magic; Sc = Follows by Scent; T(S) = True-sight; T(H) = True-hearing
JA = Detects job abilities; WS = Detects weaponskills; Z(D) = Asleep in Daytime; Z(N) = Asleep at Nighttime; A(R) = Aggressive to Reive participants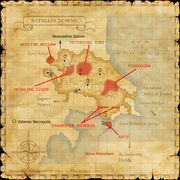 Notes
Minimum respawn time is 60 minutes from its last Time of Death. As a Lottery Spawn, it can however take much longer to appear.

Placeholder ID is 99. On Wide Scan at the center of the spawn area, it is the first Stalking Sapling in a group of 2 May Flies, 2 Stalking Saplings, and 2 Sabertooth Tigers. It's usually somewhere in the south of the spawn area, near Eldieme entrance 5.
Toby will show up in a group of six Orcs after the fourth, between Cursemaker and Serjeant.

May appear within a group of seven orcs in the scan list, depending on your scan range.
Evolith