Dead Cells Final DLC - The Loop
Play Sound
Job: Monk
Family: Mandragora
Crystal: Earth
Weak to: Fire, Wind, Lightning, Dark, Ice

Notorious Monster
Zone
Level
Drops
Steal
Spawns
Notes
West Sarutabaruta
9 - 10
1
L, H
Nyzul Isle

Floors 1 - 19,
61 - 79, 81 - 99

1
L, H

A = Aggressive; NA = Non-Aggresive; L = Links; S = Detects by Sight; H = Detects by Sound;
HP = Detects Low HP; M = Detects Magic; Sc = Follows by Scent; T(S) = True-sight; T(H) = True-hearing
JA = Detects job abilities; WS = Detects weaponskills; Z(D) = Asleep in Daytime; Z(N) = Asleep at Nighttime; A(R) = Aggressive to Reive participants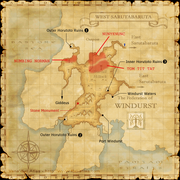 Notes (West Sarutabaruta):
Lottery Spawn from the Mandragoras from the Outpost to Starfall Hillock (H-6)~(I-7).

Standing in the center of the (I-6/7) border, the placeholder appears to be one of the 2 Mandragoras roaming nearest to (I-7) on Widescan. Tom Tit Tat can appear anywhere around Starfall Hillock.

Has around 513 HP.
Does not aggro or link to the other Mandragoras.
Soloable by level 12 for most jobs.
(see testimonials)
Notes (Nyzul Isle):
Historical Background
Tom Tit Tat, also called Tom Tit Tot, was the equivalent of Rumplestiltskin in English folklore. He was a short, mysterious helper who can only be defeated when someone discovers his name. Peerifool, another Mandragora, is also named for a version of Rumplestiltskin.