Statistics
Damage Per Second: 13.73
TP Per Hit: 63
Occ. converts damage dealt to MP III
Other Uses
How to Obtain
Cannot be auctioned, traded, bazaared, or delivered.


Cannot be obtained as a random reward from the Gobbie Mystery Box Special Dial and similar sources.
Upgrade from Tizona (80) via:
Derivations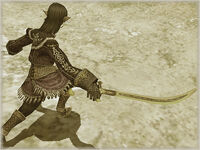 The sword wielded by Balrahn in his younger days. While on his travels it was stripped of him after suffering the only defeat of his life at the hands of a certain mercenary. He later rose up anew, mustering the bravery to again challenge his newfound rival, this time achieving victory and reclaiming the blade. Afterwards the mercenary and Balrahn came to share a lasting friendship until the end of their days.

Background
Tizona is the sword carried by El Cid which was used to fight the Moors in Spain. It is now one of Spain's most cherished relics and can be found at the Museo del Ejército (Army Museum) in Madrid.
One of El Cid's swords (another is named Colada), Tizona was taken in battle from a Moorish chief named Malik Bucar. The sword was given to his daughter's husband as a marriage gift, but some time later, due to his daughter's poor treatment at the hands of her husband, Colada was taken back and given to his nephew Pedro Bermudez. The sword is 103 cm long and weighs 1.1 kg. Tizona was supposedly forged in Cordoba, though considerable amounts of Damascus steel can be found in its blade.
---