Raise a Floppa - The Loop
Play Sound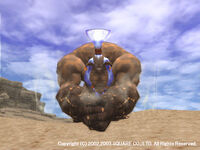 Notes
Titan is subject to a perpetuation cost based on the level of the Summoner. See Avatar Perpetuation Cost.

Titan's perpetuation cost starts at 3 MP/3s at level 1, becoming 15 MP/3s at level 99, before Refresh or Auto-Refresh effects.

Using Avatar's Favor with Titan active creates an aura granting Titan's Favor (Defense Bonus +) to party members within the area of effect.
Resistant to lightning- and earth-based damage and enfeebling effects.
Weak against wind-based damage and enfeebling effects.
Avatar Abilities
Titan's Blood Pacts are all earth-based.
1 S/T column indicates whether a particular Blood Pact participates in Skillchains (S) or uses TP (T). Blood Pacts that use TP can be used as a Magic Burst; however, Astral Flow can also Magic Burst even though it does not use TP.

How to Obtain
Quests
Vana'delian Background
A legendary giant said to bear the world in its arms. Aids the summoner by shifting earth and rocks with its enormous strength.
See Also
---