| | |
| --- | --- |
| The Transformation of Ifrit | |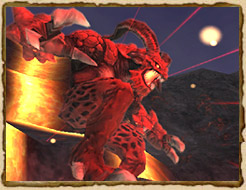 Long, long ago, in the lands of a certain powerful empire that reigned over an entire continent, was a general who was often called a "demon" for both his ferocity in the battlefield as well as for his strong temper, which reared its head to even his allies. This man's name was Frit.

Though he had killed many of his opponents on the battlefields of war, he embraced reckless strategies and took pleasure in his brutal acts of violence. Thus, scarcely a soul would even think to call him a hero.

However, one day, Frit abandoned his recklessness and began to show patient consideration with even his subordinates; consequently, the terrible rumors spoken of him crept back into the shadows. In the background, new rumors about the existence of a maiden called Falbub began to surface.

Many years ago, while his forces were burning down a foreign village, Frit heard the cries of a newborn child as he walked in front of one the houses he ordered destroyed. Entering it, he came upon a baby girl wrapped in cloth beside the body of what seemed to be its mother. Peering into Frit's eyes, the baby abruptly stopped crying, and upon seeing his rather fearsome appearance, she broke out into a smile with her hands outstretched. This child was Falbub.

Several weeks later, the war between the two nations ended, and Frit returned to his residence with the young Falbub. There, he then entrusted her into the care of two of his oldest servants, who were happily married.

From then on, Frit continued to carefully watch the young girl grow older. Living a happy childhood, she often approached him for conversation, and occasionally, she would even admonish him for his behavior. In all truth, it was through her very efforts that Frit was able to cultivate kindness in his heart.

However, Frit was brought sad news only half a year after his return home. His own estate had been burned to the ground, and the remains of the old couple and Falbub had been found.

The leader of the survivors from the countries that Frit had utterly destroyed (including Falbub's home nation) had been notified of his whereabouts.

If this was their revenge against Frit himself, why did Falbub become their victim?

Frit held this uneasy question deep in his heart with grief, and questioned himself as a perpetrator of innumerable brutal acts. He cursed himself.

Then, exhausted by anxiety, he came to one solid decision.

"When the Sun is Consumed by the Moon, The Souls of the Dead will Gather at the Mountain of Flames, and the Gates of the Underworld will open."

Trusting in a single verse passed down from the ancients, Frit set out to the southern islands, where a volcano was detailed to exist. Many weeks passed, and after facing much hardship, he was finally able to climb to the summit. There he sat, deciding to wait until that appointed time.

Having sat there until he could not distinguish whether a month or a year had passed, Frit suddenly was surrounded by darkness. The time had come. He looked down into the volcanic crater, and saw the spirits of the dead, each wrapped in pale light. Forming lines, they plunged into the fiery center one by one.

Noticing Frit's presence, one group of the dead broke out of one of the lines, and ran over to him.
Despite their numbers, he remembered them all. They were the soldiers and villagers that he had killed himself. Beside them were several of his own men--the very men whom he had sent to massacre his enemies.

With hatred gleaming in their eyes, they quickly pounced on Frit.

Knowing fully the gravity of his past sins, he was completely unable to parry their attacks. The spirits' blades pierced his skin and tore his flesh, his blood scorched in the volcanic flames.

Exactly how many spirits wounded him is left to be wondered. Receiving yet more of their hatred, Frit was cursed further by the spirits-- bathed in flame, Frit grew 2 thick horns from his head, completing his transformation into a being completely removed from his former appearance.

Content with their alteration of Frit's body into its terrifying state, the spirits attempted to draw him into the scorching lava of the crater. In that moment, a lone girl elbowed her way through the crowd and ran to his side. It was Falbub.

Frit was so terrified of letting his hideous appearance be seen by her that he turned his head away in agony. In the center of those flames, she stared at his terrible form…and broke into a smile, holding out her hands.

That smile hadn't changed at all since the time they first met. As Frit embraced Falbub, he prayed to the Goddess for the first time in his life.

His wish must have reached the heavens.

In that instant, the phosphorescent light that had surrounded Falbub disappeared, and in its place was the rich glow of vitality.

After setting her down onto a safe rock ledge, Frit sank slowly into the fiery crater with the spirits of the dead. It is said that Frit was smiling to Falbub as he traveled into the next realm, easing her heart as she screamed and cried for many a night.

Soon, the Goddess realized that Falbub's life in the living world would not be a truly happy one, and decided to allow Falbub and Ifrit to meet again by calling them to the heavens.

To this day, it is said that the ancients who heard this story then began to call him I' frit (Frit of the Flames) in honor of his strong spirit.
Taken from: Vana'diel Tribune Issue No. 14

Notes
Note: Falbub is the brighest star in the Ifrit constellation in Vana'diel's sky. It is a red-colored star.
---
Article in original Japanese
むかしむかし、さる大陸に君臨していた巨大な帝国に、悪鬼と呼ばれ、味方にすら恐れられた将軍がいました。彼の名はフリート。
数多の戦場に身を置き、無数の敵を葬ってきた猛将でしたが、一方で無謀な作戦や残虐な蛮行でも知られていたため、彼を英雄と呼ぶ者は誰ひとりいませんでした。
しかし、ある時期を境に、彼は野蛮な行為を控え、部下にも配慮を示すようになったため、次第に悪い噂は影を潜めていきました。その背景には、ファルブブという名の、少女の存在がありました。
何年か前にフリートの軍勢が異民族の町を焼き討ちしたとき、燃えさかる民家の前を通りかかった彼は、赤子の泣き声を耳にしました。彼が中に入ると、母親らしき骸の側に麻布に包まれた赤子がいました。のぞき込むと、赤子は泣きやんだばかりか、恐ろしげな姿の彼を見て、満面の笑みで小さな両手を差し伸べたのです。それが、ファルブブでした。
その後、戦役が終わり、帰国した彼は、ファルブブを屋敷に連れ帰ると、使用人の老夫婦に世話を任せました。
それからのフリートは、少女の成長に目を見張ることになりました。快活に育った彼女は、様々な話題に彼を引き込み、時に諌めることすらありました。こうしてフリートは彼女のおかげで、人としての優しさをはぐくませていったのです。
しかし、ある戦役を終え、半年ぶりに帰国の途についたフリートに、悲報がもたらされました。彼の屋敷が焼き討ちされ、焼け跡から老夫婦とファルブブのなきがらが見つかった、というのです。逃亡に失敗して落命した首謀者は、ファルブブが生まれた町、つまりフリートがかつて滅ぼした国の者であることも知らされました。
これが復讐だとしたら、なぜファルブブが犠牲にならねばならないのでしょう?
フリートはこの理不尽を嘆き、かつて無慈悲な行為を犯した自らを問いつめ、呪いました。そして、悩みぬいた末に、ひとつの決意をしました。
"日輪が月に喰われし時、炎の山に亡者集いて、冥界の門を叩かん"
彼は古くから伝えられる一節を頼りに、南の島にあるという火山へと旅立ったのでした。それから数週間、苦難の末、島までたどり着いたフリートは、火山をよじ登って火口の縁に到達すると、そこに座し、時を待つことにしました。
1月か1年か、どれほどの時が過ぎたのか分からなくなった頃、突然、闇が訪れ、その時がきました。火口を見下ろすと、蒼い燐光に包まれたおびただしい数の亡者が列をなし、次々と火口に飛び込んでいたのです。
気がつくと、一部の亡者が列を外れ、彼の方に駆けてきます。その姿は様々でしたが、見覚えがありました。それは彼が殺めた敵兵や民、そして見殺しにした味方兵たちでした。
憎しみの表情を浮かべた彼らは、我先にとフリートに襲いかかりました。自らが犯した罪の深さを知るかつての悪鬼に、その刃をかわすことはできません。彼らがふるった刃は、フリートの皮膚を破り、肉を裂き、ついには炎を発して血を焦がしはじめました。
どれだけの亡者が、彼を傷つけたことでしょう。亡者の憎しみを一身に受け、炎に包まれたフリートは、いつしか頭から2本の太い角が生え、異形の姿に変わり果てていました。
フリートのおぞましい姿に亡者たちが満足し、ついに彼を火口へと引きずり込もうとしたときでした。彼らをかきわけて、ひとりの少女が駆け寄りました。ファルブブでした。
フリートは、己の醜い姿が彼女の瞳に映ることを怖れ、顔を背けようとしました。しかし彼女は炎の中、恐ろしげな姿の彼を見て、満面の笑みで両手を差し伸べたのです。
それははじめて出会ったときと何ひとつ変わらぬ笑顔でした。フリートは彼女を抱きとめると、生涯ではじめて女神に祈りました。
すると、どうでしょう。その願いが通じたのか、ファルブブの身体から燐光が消え、代わりに生気が満ちてきたのです。
フリートは抱きかかえた彼女を安全な岩影にそっと置くと、亡者たちと共に火口の中へと沈んでいきました。泣き叫ぶファルブブに振り向いた顔には、笑みが浮かんでいたということです。
やがて、ファルブブが幸福のうちに天寿をまっとうすると、女神はファルブブとフリートを再会させてやるために、2人を天に招きました。この哀話を伝え聞いた人々は、彼を"イ・フリート(炎のフリート)"と呼ぶようになったということです。
---
Credibility of the Avatar Legends
The stories told in the Vana'diel Tribune might not be actually true. There are some points in the main storyline of FFXI that contradict the facts said in these stories.
It is possible that these stories are actual legends that are spread around by the people of Vana'diel. This becomes even more likely considering that most of the time the Vana'diel Tribune is being told from the point of view of people actually in Vana'diel.
Community content is available under
CC-BY-SA
unless otherwise noted.