Notes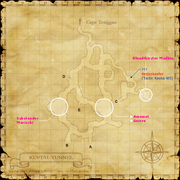 You cannot flag this quest if you already have a Weapon Skill NM quest in your quest log.
You may have to speak with Jaucribaix twice if you have started but not finished A Thief in Norg!?
You will only be able to flag this quest by rezoning and speaking to Jaucribaix again if The Sacred Katana is not finished.
You can only do one WSNM quest at a time. However, you can cancel it by talking to the NPC that gave you the quest.
Walkthrough
Game Description
Client

Jaucribaix (Near the Captain's Quarters, Norg)

Summary

Use the katana given to you by Jaucribaix to find your true potential. When the blade has lost its power, then you will know you have been accepted.
Community content is available under
CC-BY-SA
unless otherwise noted.