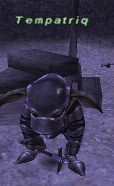 Tempatriq
Notes
Will make you the key Bouncebix asks for after bringing him a Bronze ingot and silver beastcoin.

Depending on the job of Chaperix, he will ask for different ingredients to upgrade your weapon to a maximum of two times. The items requested are temp items and available in Smashlix's tunnel.

As "Walloper" your first upgrade will cost you an Iron ore. Your second upgrade will need Darksteel ore and mythril beastcoin.
Involved in Events
Community content is available under
CC-BY-SA
unless otherwise noted.