An ornate set of attire of dark green cloth and tanned leather for use by Rangers. Once used by a great Hero of Abyssea, the true potential of this Empyrean armor is currently sealed and must be released by completing the Trials of the Magians.

Number of Pieces: 5
Cost to store: Not storable with armor depository NPC.
Storage Slip: Moogle Storage Slip 08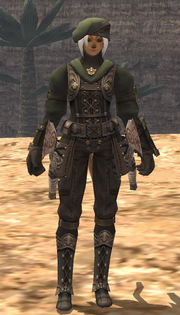 Level
Armor Piece
85
Sylvan Gapette


[Head] All Races
DEF: 29 Ranged Accuracy +3
Ranged Attack +3
Lv. 85 RNG

89
Sylvan Caban


[Body] All Races
DEF: 55 STR +3 AGI +3
Ranged Accuracy +6
Lv. 89 RNG

87
Sylvan Glovelettes

83
Sylvan Brague


[Legs] All Races
DEF: 41 Ranged Attack +3
Lv. 83 RNG

81
Sylvan Bottillons

Empyrean Accessories
Level
Armor Piece
90
Sylvan Earring

84
Sylvan Chlamys


[Back] All Races
DEF: 9 STR +6 AGI +6 Store TP +5 Enmity -3
Lv. 84 RNG

80
Sylvan Scarf


[Neck] All Races
AGI +6 Ranged Attack +8 Enmity -3
Lv. 80 RNG
Set Summary
Community content is available under
CC-BY-SA
unless otherwise noted.