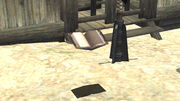 Survival Guides are floating black books which have been placed by the Adventurers' Mutual Aid Network to provide teleportation services. They are located at all Outposts in Conquest areas as well as a number of other locations. In dungeon areas, the guides are typically located at the main entrance. They appear on maps with a special

icon.
You must speak to each Survival Guide to register it. Then you may teleport to previously registered guides for 1000 gil per trip base price (decreasing as you finish Rhapsodies of Vana'diel missions) or 50 tabs (or completely free when Thrifty Transit is active). The Survival Guide teleportation service operates independent of Outpost Teleportation.
The Middle Lands
The Aradjiah Continent
The Shadowreign Era
Adoulin Isles
Community content is available under
CC-BY-SA
unless otherwise noted.