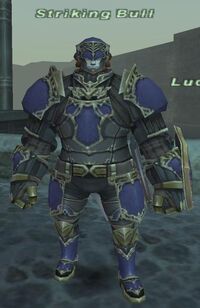 Striking Bull
Race:
Affiliation:
Occupation:
Heavy Infantry Captain
Notes
Appears during Campaign Battles in Rolanberry Fields (S) as captain of the 2nd Legion Grenadiers.
Has a very low attack delay.
Stands back and spams Mistral Axe for 400-800 damage; however, sometimes he ends up standing there and not doing anything. He can also use Smash Axe for 200+ damage, Gale Axe for 200+ damage, Avalanche Axe for 200+ damage, Calamity for 300-600 damage, and Decimation for up to 500 damage.
Uses Bloody Tomahawk ability approximately every 20 seconds for 100-500 damage.
Talk: If it weren't for the Galkan heavy infantry, this nation wouldn't last a month against the turtlebacks. And what thanks do we get? A handful of stale army biscuits!
Battle Cry: Ahahahaha! My hand slipped!
For some reason, it seems difficult/impossible to see Striking Bull's damage against enemy leaders.
Community content is available under
CC-BY-SA
unless otherwise noted.