---
Walkthrough
Gain your mission from Emhi Tchaoryo.
Walk through Windurst Waters (S) until you find an "Suspicious object" and examine it.
This mission only requires up to Three "Suspicious object"s.
Return to Emhi Tchaoryo to complete the mission.
---
Game Description
Objective:Yagudo spies have infiltrated Windurst and planted instruments of mass destructions and/or mayhem (IMDaoMs) in various discreet locations. You are to patrol the capitol and remove any hazardous materials you encounter.


Unit Requirement: 1 members
---
Notes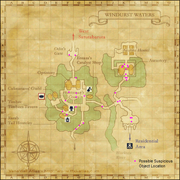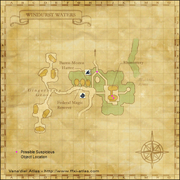 The location is random, and the "Suspicious Object" moves to a different spot after a while.
The next "Suspicious Object" will spawn immediately after one is picked up.
The possible locations are too numerous to mark all of them on your in-game map. The maps on the right show areas where "Suspicious Objects" are often found.
All "Suspicious Objects" are pooled, meaning if multiple ppl undertake the task at the same time, they all can see the same points. This can lead to competition over spawns.
"Suspicious Objects" can respawn in the same place multiple times in a row, so make sure you check the spot you just picked up before you leave to search another area.
There may be more than one "Suspicious Object" spawned at the same time, and it is possible to have two points up right next to each other simultaneously.
"Suspicious Objects" will not show up on the Job Ability Wide Scan
"Suspicious Objects" will despawn if unclaimed 2-3mins after spawning.