Zone
Level
Drops
Steal
Spawns
Notes
Davoi
33 - 34
1
Assisted By: Orc's Wyvern
A, L, S, Sc
~2,600 HP

Jugner Forest (S)
La Vaule (S)

Union Spoils:

1
A, L, T(S), Sc
??? HP
??? MP

A = Aggressive; NA = Non-Aggresive; L = Links; S = Detects by Sight; H = Detects by Sound;
HP = Detects Low HP; M = Detects Magic; Sc = Follows by Scent; T(S) = True-sight; T(H) = True-hearing
JA = Detects job abilities; WS = Detects weaponskills; Z(D) = Asleep in Daytime; Z(N) = Asleep at Nighttime; A(R) = Aggressive to Reive participants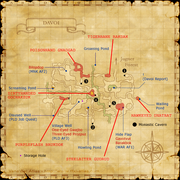 Davoi Notes:
Lottery Spawn from the Orcish Impaler around K-9 to K-10 every 1-6 hours.
Calls a pet wyvern, which follows and assists it in combat.
Does not drop both items at the same time; Lizard Piercer seems to be the more common drop.
(see testimonials)
Campaign Notes:
Community content is available under
CC-BY-SA
unless otherwise noted.