Roblox: DeepWoken - The Loop
Play Sound
Job: Warrior
Family: Crawlers
Crystal: Earth
Weak to: Dark

Notorious Monster
Zone
Level
Drops
Steal
Spawns
Notes
East Sarutabaruta
9 - 10
1
L, H, Sc
Nyzul Isle

Floors 41 - 59

< 56
1
A, L, H, Sc

A = Aggressive; NA = Non-Aggresive; L = Links; S = Detects by Sight; H = Detects by Sound;
HP = Detects Low HP; M = Detects Magic; Sc = Follows by Scent; T(S) = True-sight; T(H) = True-hearing
JA = Detects job abilities; WS = Detects weaponskills; Z(D) = Asleep in Daytime; Z(N) = Asleep at Nighttime; A(R) = Aggressive to Reive participants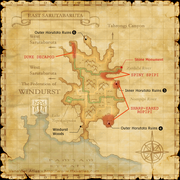 Notes:
Lottery spawn from the Crawlers around I-7 to J-7.

Also may spawn by the river a little north (I/J-6).

Spawns every 45-120 minutes. Can take upwards of 4 hrs to spawn
Both Spiny Spipi and the Placeholder can spawn at the other side of the hill from the tower by the river.
On Widescan, the placeholder is the third of the group of three crawlers that pop in the area.
Placeholder ID is 130. (Confirmed placeholder ID is 130. When Spipi spawns, placeholder 130 does not spawn, and instead, Spipi will take its place and become mob ID 131.)
Soloable by most jobs level 10+. (see testimonials)
Nyzul Isle: The Armoury Crate it leaves behind contains a ??? Cape, which may rarely appraise into a Mist Silk Cape.