Family: Sheep
Crystal: Earth
Weak to: Lightning, Fire
Zone

Level

Drops

Steal

Spawns

Notes

17-18

1

L, S
500~600 HP



A = Aggressive; NA = Non-Aggresive; L = Links; S = Detects by Sight; H = Detects by Sound;
HP = Detects Low HP; M = Detects Magic; Sc = Follows by Scent; T(S) = True-sight; T(H) = True-hearing
JA = Detects job abilities; WS = Detects weaponskills; Z(D) = Asleep in Daytime; Z(N) = Asleep at Nighttime; A(R) = Aggressive to Reive participants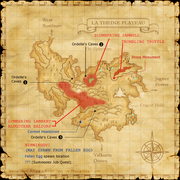 Notes:
Located at (H-7) near the The Ephemere.
Timed spawn of 1 hour and 10 minutes.
Soloable by some level 20 jobs. (see testimonials)
Is NOT a lottery spawn from the Mad Sheep, however, it will link with them.
Frequently uses the TP ability Sheep Song.
Not aggresive to level 10 atleast.
Community content is available under
CC-BY-SA
unless otherwise noted.