Zone

Level

Drops

Steal

Spawns

Notes

28-30

1
Respawn: 11 min

A, L, H, Sc
*See below
650~700 HP


A = Aggressive; NA = Non-Aggresive; L = Links; S = Detects by Sight; H = Detects by Sound;
HP = Detects Low HP; M = Detects Magic; Sc = Follows by Scent; T(S) = True-sight; T(H) = True-hearing
JA = Detects job abilities; WS = Detects weaponskills; Z(D) = Asleep in Daytime; Z(N) = Asleep at Nighttime; A(R) = Aggressive to Reive participants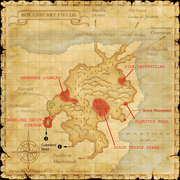 Notes:
Involved in Quests: Fear of Flying
Located around K-7 (NOTE: The 3 times I found & killed this NM it was in the South-East corner of K-7, not sure if it was just a fluke or not!)
Spawns when the Airship flies by overhead towards Jeuno - every 11 minutes - and will despawn after the airship flies back overhead towards Bastok if left unclaimed.
Killable solo at around level 30. (see testimonials)
Community content is available under
CC-BY-SA
unless otherwise noted.