Job:
Family: Flytraps
Crystal: Wind
Weak to:

Notorious Monster
Zone

Level

Drops

Steal

Spawns

Notes

1

A, L

A = Aggressive; NA = Non-Aggresive; L = Links; S = Detects by Sight; H = Detects by Sound;
HP = Detects Low HP; M = Detects Magic; Sc = Follows by Scent; T(S) = True-sight; T(H) = True-hearing
JA = Detects job abilities; WS = Detects weaponskills; Z(D) = Asleep in Daytime; Z(N) = Asleep at Nighttime; A(R) = Aggressive to Reive participants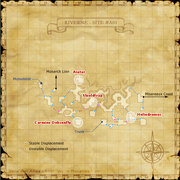 Notes:
Spawned by trading a Shield Bug to the ??? at the north-west corner of I-9.
Special Attacks: Spells (such as Enaero, Blink, Choke) based on the element of the current day of the week.
Duoable by two BST. Familiar on Hawkers will take the NM down most of the way and finish off by using Riverne Vultures.
Historical Background
Many Flytrap monsters are named ___trap, with ___ representing some creature. Shieldtrap means this plant catches Shieldbugs, the bug used to spawn it, found around Riverne-A01.
Community content is available under
CC-BY-SA
unless otherwise noted.