Job:
Family: Rabbit
Crystal: Earth
Weak to: Water, Lightning, Dark

Notorious Monster
Zone
Level
Drops
Steal
Spawns
Notes
East Sarutabaruta
10
1
L, S, Sc
~300 HP

Nyzul Isle

Floors 61 - 80

1
A, L, S, Sc
??? HP


A = Aggressive; NA = Non-Aggresive; L = Links; S = Detects by Sight; H = Detects by Sound;
HP = Detects Low HP; M = Detects Magic; Sc = Follows by Scent; T(S) = True-sight; T(H) = True-hearing
JA = Detects job abilities; WS = Detects weaponskills; Z(D) = Asleep in Daytime; Z(N) = Asleep at Nighttime; A(R) = Aggressive to Reive participants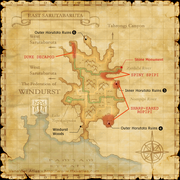 Notes (East Sarutabaruta):
Lottery Spawn from a Savanna Rarab around (J-10), (J-11), or (I-10).
Placeholder is the second Savanna Rarab in the group of two closest to the bottom of the list.
Is a true lottery spawn (can be the next pop after Ropipi is killed the first time).
Killing this NM is required to complete the quest The Miraculous Dale.
Soloable by most jobs at level 13. (see testimonials)
Notes (Nyzul Isle):
Community content is available under
CC-BY-SA
unless otherwise noted.