Statistics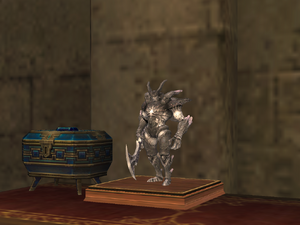 Furnishing:
A meticulously chiseled statuette of
the
Shadow Lord
, with a menacing
gaze to send chills up the spine of
any who behold it.
<

STG: 4>
Can be stored with a Porter Moogle using Storage Slip 11.
Other Uses
Synthesis Recipes
None
Used in Recipes
Desynthesis Recipe
None
Obtained From Desynthesis
How to Obtain
In exchange for Mog Pell (Marble)
Contests
XI Years of Final Fantasy XI [1]
Community content is available under
CC-BY-SA
unless otherwise noted.