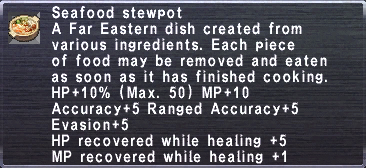 Statistics
Seafood Stewpot
A Far Eastern dish created from
various ingredients. Each piece
of food may be removed and eaten
as soon as it has finished cooking.
Stackable: Not Stackable
Food Effects:
(
3 hours
,
All Races
)
Other Uses
Synthesis Recipes
Yield: Seafood Stewpot x 1
HQ 1: Prime Seafood Stewpot x 1
HQ 2: Prized Seafood Stewpot x 1
Used in Recipes
Desynthesis Recipes
None
Obtained from Desynthesis
How to Obtain
Only obtainable through synthesis.
Furniture
Available from the Galley Kitchen randomly.
Assault
Obtained in

quality during the Lebros Supplies mission
Community content is available under
CC-BY-SA
unless otherwise noted.