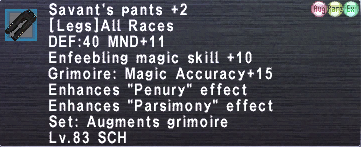 Statistics

Grimoire: Magic Accuracy
Grimoire refers to an active Light Arts or Dark Arts and the spells that correctly correspond to each effect.
Enhances "Penury" and "Parsimony" effect
Gives Conserve MP a 100% chance to activate when using Penury or Parsimony. Conserve MP reduces the average cost of a spell to approximately 72% of its base cost. Because Penury and Parsimony are applied after Conserve MP, the resulting average MP cost of a spell under either effect is approximately 36% of base MP cost of that spell.
Set: Augments "Grimoire"
Other Uses
Synthesis Recipes
None
Used in Recipes
Desynthesis Recipes
None
Obtained from Desynthesis
How to Obtain
Cannot be auctioned, traded, bazaared, or delivered.


Cannot be obtained as a random reward from the Gobbie Mystery Box Special Dial and similar sources.
Quest