Statistics
Damage Per Second: 14.39
TP Per Hit: 133
Augments jump attacks III
Other Uses
How to Obtain
Cannot be auctioned, traded, bazaared, or delivered.


Cannot be obtained as a random reward from the Gobbie Mystery Box Special Dial and similar sources.
Upgrade from Ryunohige (80) via the Polearm Trials:
Historical Information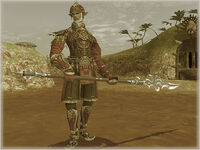 Ryunohige is the notorious polearm obtained by Balrahn as an end result of his hundreds of battles with beastman generals in the eastern theater of war. Forged in the image of the imposing beards of the formidable eastern wyrms, the undulating spearhead is said to harbor the powers of tumbling thunderclouds.
Ryu no Hige means "Dragon's Beard" or "Dragon's Whisker" in Japanese.
See Also
References