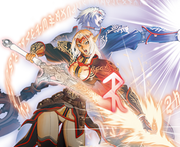 Quick with a blade as well as an incantation, these versatile duelists employ the power of arcane runes to sway the tide of battle both offensively and defensively.
A tank job that utilizes various runes and excels in magical defense and elemental resistance.
Unlocked by completing the Children of the Rune quest in Eastern Adoulin.






Job Traits

Job Abilities




Wards and Effusions

Rune Enchainments
| | |
| --- | --- |
| Combat Skill Ratings | Magic Skill Ratings |
Spell List
Artifact Equipment
Artwork
Rune Fencer Guides
Information Sources
http://massively.joystiq.com/2013/02/21/massively-exclusive-an-in-depth-look-at-final-fantasy-xis-new/