New Pokemon Games - The Loop
Play Sound

Statistics

Augments
This item is rewarded with a choice of two augmentations (see below).
Other Uses
Synthesis Recipes
None
Used in Recipes
Desynthesis Recipes
None
Obtained from Desynthesis
How to Obtain
Cannot be auctioned, traded, bazaared, or delivered.


Cannot be obtained as a random reward from the Gobbie Mystery Box Special Dial and similar sources.
Missions
Tenshodo Coffer
Augments
Upon obtaining this equipment, players will be provided with a list of Augments from which they may freely choose to supplement the armor's base attributes. Up to two different augments may be selected:
Augment bonuses to job abilities require access to the job ability to have any effect; they will not allow usage of the job ability.
Background Information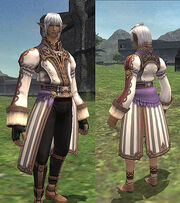 This regal topcoat was born when King Guillauhonbert, renowned as the most handsome and prideful of Eastern San d'Oria's rulers, summoned Windurstian clothier Melukko-Amalukko to his court and commissioned him to produce a garment that would be fit for a monarch beautiful in countenance and unsurpassed in martial prowess. Sparing no luxury with its elaborate stitchwork and bedecked with lavish jewels, it has remained in use post-unification as the favored ceremonial garb of the royal d'Oraguille family.
Background
A redingote is style of frock coat worn in the early 19th century.