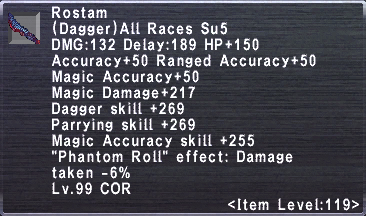 Statistics
Damage Per Second: 41.9
TP Per Hit: 52
"Phantom Roll" Effect: Damage taken -6%
Effect is additive per roll effect. E.g., 2 rolls = -12% damage taken.
Other Uses
Synthesis Recipes
Smithing 111~113

, Bonecraft (

), Goldsmithing (

)
Yield: Commodore's Knife x 1
HQ 1: Lanun Knife x 1
HQ 2: Rostam x 1
Used in Recipes
Desynthesis Recipes
None
Obtained from Desynthesis
How to Obtain
Auction House Category: Weapons > Daggers


Cannot be obtained as a random reward from the Gobbie Mystery Box Special Dial and similar sources.
Only obtainable through synthesis.