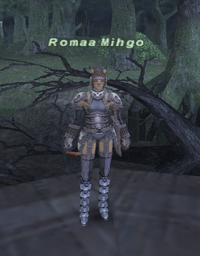 Romaa Mihgo (S)
Race:
Affiliation:
Occupation:
Cobra Mercenary Major
Notes
Involved in Missions
Involved in Quests
Battle NPC
Romaa fights alongside the party during the battlefield events in Ghoyu's Reverie for A Feast for Gnats, Everbloom Hollow for WOTG Mission 14: A Nation on the Brink, and the confrontation in West Sarutabaruta (S) for Howl from the Heavens. She uses a sword in battle, and has a unique weaponskill: Cobra Clamp.
In A Feast for Gnats, she fights the Quadav and Gigas raiders alongside Cobra Mercenaries. She must be kept alive or else the battle ends.
In A Nation on the Brink, she leads two Cobra Mercenaries against the beastmen raiders. Unlike in Ghoyu's Reverie, the battle doesn't automatically end if she falls.
In Howl from the Heavens, she assists you in defending Protective Wards against beastmen raiders.
Community content is available under
CC-BY-SA
unless otherwise noted.