No Man's Sky Update - The Loop
Play Sound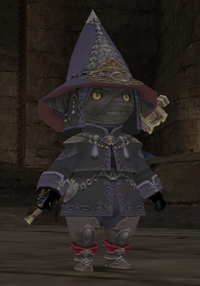 Robel-Akbel
Race:
Affiliation:
Occupation:
Warlock Warlord
Location:
Windurst Waters [S]
Notes
Robel-Akbel is the Warlock Warlord during the time of the Crystal War. His face is completely covered by black bandages, revealing only yellow eyes.
He doesn't speak with any quirks like most Tarutaru do (rhyming or altering the ending of words that end in "t" to "taru"). Bears a very gloomy and serious demeanor. Appearing to be a shrewd and masterful tactician.
His skin is barely visible, but appears to take on the ashy color of his facial bandages. (This can be witnessed when he talks and the exposed flesh surrounding his eyes)
Starts Quests
Involved in Missions
Involved in Quests

SPOILER WARNING: Details about the Final Fantasy XI in-game storyline follow.

Appears in the very last scene of Fate in Haze alongside Haudrale, Aquila and Larzos overlooking the northlands and therefore seems to indicate him to be the 4th Spitewarden of Lady Lilith.

He was, in fact, one of Lady Lilith's Spitewardens; however, it was merely a ruse to gain access to the alternate past he intends to save, thus preventing his own future from becoming a reality.
Robel-Akbel actually died in the First Battle of Windurst. The Robel-Akbel you see in most cutscenes is actually a version of Karaha-Baruha from an alternative future, in which he failed to summon Fenrir and Windurst is decimated, the Star Tree reduced to a burnt-out shell of its former self.