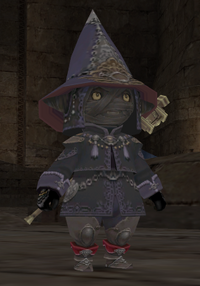 Robel-Akbel
Race:
Affiliation:
Occupation:
Warlock Warlord
Location:
Windurst Waters [S]
Notes
Robel-Akbel is the Warlock Warlord during the time of the Crystal War. His face is completely covered by black bandages, revealing only yellow eyes.
He doesn't speak with any quirks like most Tarutaru do (rhyming or altering the ending of words that end in "t" to "taru"). Bears a very gloomy and serious demeanor. Appearing to be a shrewd and masterful tactician.
His skin is barely visible, but appears to take on the ashy color of his facial bandages. (This can be witnessed when he talks and the exposed flesh surrounding his eyes)
Starts Quests
Involved in Missions
Involved in Quests
Community content is available under
CC-BY-SA
unless otherwise noted.