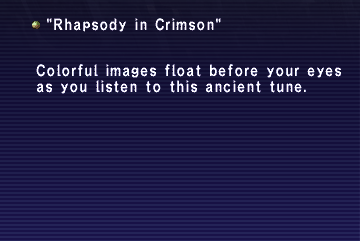 Rhapsody in Crimson
Description:
Colorful images float before your eyes as you listen to this ancient tune.
Notes:
Experience/Skill Gains
30% bonus to experience and limit points gains
100% increase to combat and magic skill gains
Alter Egos
Allows an additional alter ego to be called forth at once, enabling you to have 5 alter egos out.
Vendors
†A detailed list is available at the end of this page.

Type
Item
Price
Medicines
X-Potion
1,200 gil
Super Ether
3,000 gil
Ammunition
Arrows
Antlion Quiver
9,900 gil
Ammunition
Bolts
Darkling Bolt Quiver
9,460 gil
Fusion Bolt Quiver
9,790 gil
Ammunition
Bullets
Dweomer Bullet Pouch
9,680 gil
Oberon Bullet Pouch
9,900 gil
Ammunition
Shuriken
Iga Shuriken Pouch
9,900 gil
Ninja Tools
Toolbag (Soshi)
5,000 gil
Food
Apple au Lait
300 gil
Pear au Lait
600 gil
Melon Juice
1,100 gil
Yagudo Drink
2,000 gil
Pot-au-feu
3,500 gil
Bream Sushi
5,000 gil
Dorado Sushi
4,000 gil
Crab Sushi
1,500 gil
Butter Crepe
1,000 gil
Pumpkin Pie
1,200 gil
Chocolate Rusk
2,000 gil
Coffee Macaron
2,000 gil
Montagna
2,500 gil
Seafood Pitaru
2,500 gil
Shiromochi
3,000 gil
Kusamochi
3,000 gil
Akamochi
3,000 gil
Beef Stewpot
15,000 gil
Zaru Soba
15,000 gil
Spicy Cracker
450 gil
Community content is available under
CC-BY-SA
unless otherwise noted.