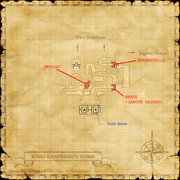 Walkthrough
Note: This mission requires a certain level of Rank Bar. Trade 4 crystals to the gate guard or complete repeatable missions up to several times.
The mission guard will instruct you to talk to Prince Trion.
Go to the door located at H-7 in Chateau d'Oraguille for a cutscene with Prince Trion.
After the cutscene, bring a level 60+ party and go through East Ronfaure to King Ranperre's Tomb.

Most level 85 jobs can solo this mission, especially if the monsters are spawned with Sneak active, and one is pulled away from the others (they do not link).

Inspect the Heavy Stone Door located at H-8 of the first map to spawn 3 skeleton NMs - Corrupted Soffeil (BLM), Corrupted Yorgos (WAR), and Corrupted Ulbrig (BLM).
Inspect the Heavy Stone Door again and enter.
You may need to wait up to 1 minute from spawn time to enter the Heavy Stone Door even if the NM's have already been defeated.
After winning the fight, you will not need to fight again to enter, even after zoning out or disconnecting
Game Description
Mission Orders

Prince Trion seeks an adventurer. Find the prince in his chamber to learn more.