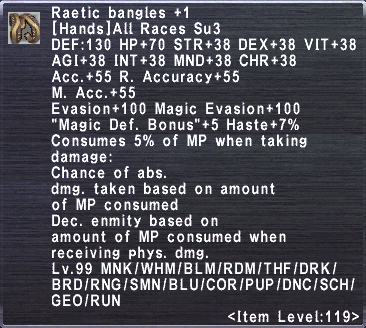 Statistics
Chance of absorbing damage taken based on amount of MP consumed.
Activation rate is low.
Works with both physical and magical damage.[1]
MP is still absorbed if Stoneskin is active.[2]
Dec. enmity based on
amount of MP consumed when receiving phys. dmg.
Other Uses
Synthesis Recipes
Bonecraft 115~119

Yield: Raetic Bangles x 1
HQ 1: Raetic Bangles +1 x 1
How to Obtain
Only obtainable through synthesis.
References
Community content is available under
CC-BY-SA
unless otherwise noted.