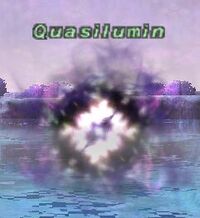 Quasilumin
Notes
The residents of Lumoria, identified simply as "Quasilumin," appearing as scintillating orbs of light.
Some are stationary, and have one line of conversation if you talk to them. If you talk to all of these in a zone, talking to one of them again gives you the map of that zone. There are 20 of them in Al'Taieu, and 10 each in Hu'Xzoi and Ru'Hmet.
In Hu'Xzoi there are also 4 places where you check a Cermet Alcove to spawn a mobile Quasilumin. You must escort it to its destination, and it opens doors for you along the way. This is necessary for A Fate Decided and also for fighting the Notorious Monsters in Hu'Xzoi.
Community content is available under
CC-BY-SA
unless otherwise noted.