Job: Black Mage
Family: Orcs
Crystal: Fire
Weak to: Water

Notorious Monster
Zone
Level
Drops
Steal
Spawns
Notes
Davoi
55~60
1
A, L, S, Sc
~7,800 HP
??? MP

A = Aggressive; NA = Non-Aggresive; L = Links; S = Detects by Sight; H = Detects by Sound;
HP = Detects Low HP; M = Detects Magic; Sc = Follows by Scent; T(S) = True-sight; T(H) = True-hearing
JA = Detects job abilities; WS = Detects weaponskills; Z(D) = Asleep in Daytime; Z(N) = Asleep at Nighttime; A(R) = Aggressive to Reive participants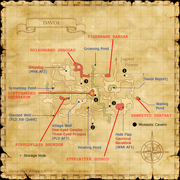 Notes:
Spawned by Quest: The Crimson Trial upon entering the zone.
Despawns when you join a party.

If despawned, you must wait until the next Vana'diel day before you can spawn him again.
Trusts WILL NOT despawn this enemy after spawning. This will make the fight much easier for solo players.

Uses Manafont at around 75% health.
Will aggro a level 75 character.
Soloable by most jobs around level 73~75 (see testimonials)
Community content is available under
CC-BY-SA
unless otherwise noted.