Statistics
Enchantment: Costume
Using this turns you into a Baby Chocobo. While under its effect, you cannot interact with NPCs or objects.
Effect wears off after one hour (if not removed sooner).
Recast is now down to one hour (old image used).
Other Uses
Synthesis Recipes
None
Used in Recipes
Desynthesis Recipes
None
Obtained from Desynthesis
How to Obtain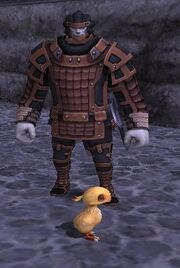 Chocobo Racing
Obtained through Chocobo Official Races, by winning Monster Race #5 ("Lethal Race").
Community content is available under
CC-BY-SA
unless otherwise noted.