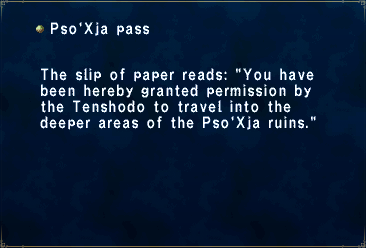 Pso'Xja Pass
Description:
The slip of paper reads: "You have
been hereby granted permission by
the Tenshodo to travel into the
deeper areas of the Pso'Xja ruins."
How to Obtain
Go to Upper Jeuno's Infirmary and talk to Monberaux. Proceed to Lower Jeuno Neptune Spire and go into Tenshodo and talk to Ghebi Damomohe (I-7). She'll ask you to bring one of the 3 chips that can be obtained from Pso'Xja.
Bring either one of the above chips back to Ghebi Damomohe and trade to get a key item and 500g reward. Congratulations! You now have access to Pso'Xja where you can fight Diabolos.
COP 3-5 Entrance
Go to Beaucedine and enter Pso'Xja via (H-8) tower (near outpost guards).
From entrance, go straight until you reach a circular area. Head to the branch north and you'll see a Red Warp (H-7)
After the Red warp, turn right and walk straight ahead to Black Warp (I-7)
Walk westward to the 2nd room, turn left and walk thru a Red Warp (H-7)
After Red Warp, turn right and walk straight ahead to Black Warp (I-7)
Go west to the 2nd room and turn left to reach the Elevator area.
Head north, turn left and down a flight of stairs to a Stone Gate where you click to use your Pso'Xja Pass obtained earlier on in Jeuno to enter the Shrouded Maw BC holding area.

HINT
Your shadow will not be cast on tiles that drop. This is because SE does not feel it is necessary to render shadows on moving objects or objects with animations.