Roblox: DeepWoken - The Loop
Play Sound
Job: Paladin
Family: Antica
Crystal: Dark
Weak to: Wind

Notorious Monster
Zone

Level

Drops

Steal

Spawns

Notes

72

1

A = Aggressive; NA = Non-Aggresive; L = Links; S = Detects by Sight; H = Detects by Sound;
HP = Detects Low HP; M = Detects Magic; Sc = Follows by Scent; T(S) = True-sight; T(H) = True-hearing
JA = Detects job abilities; WS = Detects weaponskills; Z(D) = Asleep in Daytime; Z(N) = Asleep at Nighttime; A(R) = Aggressive to Reive participants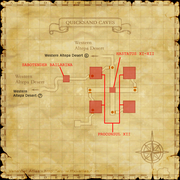 Notes:
Spawns approximately every 2 hours.
Located at: Enter Quicksand Caves from Western Altepa Desert at G-5; spawns at one of four locations every 2 hours, in one of the rooms at H-6, K-6, I-10 or L-10 on that map.
Killable by: Solo: 75 NIN or THF; Duo: 75 NIN, Mage; Trio by 3 characters Lv.73+; 4 characters Lv.70+; 6 characters Lv.65+
Special Attacks: Invincible which will trigger at roughly 50% HP.
Also appears last on Widescan
Historical Background
Proconsul is a governmental position in Roman society (See Antican Proconsul for further information). XII is 12 in Roman numerals. Thus, its name in Latin means Proconsul 12.