Statistics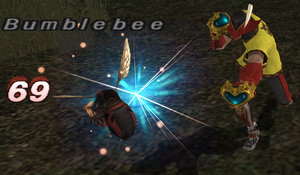 Damage Per Second: +0.21*
TP Per Hit: +7*
*Base delay for Hand-to-Hand is assumed to be 480.
Can be stored with a Porter Moogle using Storage Slip 22.
Other Uses
How to Obtain
Special Events
Notes
Added
See Also
Nomenclature
Premium: Originally meaning reward or prize, from the Latin prae- (before) and emere (to buy), but used as an adjective in American English from the 1920s to mean 'higher quality'.
Mogti: A portmanteau of mog (of Mooglish predisposition) and cesti (from the Roman fighting gloves, cestus)
Community content is available under
CC-BY-SA
unless otherwise noted.