No Man's Sky Update - The Loop
Play Sound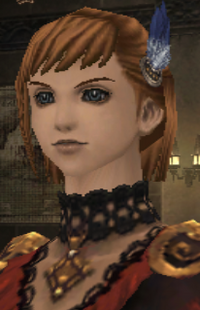 Portia
Notes
Involved in Missions

SPOILER WARNING: Details about the Final Fantasy XI in-game storyline follow.

Battle Info
Zone
Level
Drops
Steal
Spawns
Notes
Walk of Echoes
1
A

A = Aggressive; NA = Non-Aggresive; L = Links; S = Detects by Sight; H = Detects by Sound;
HP = Detects Low HP; M = Detects Magic; Sc = Follows by Scent; T(S) = True-sight; T(H) = True-hearing
JA = Detects job abilities; WS = Detects weaponskills; Z(D) = Asleep in Daytime; Z(N) = Asleep at Nighttime; A(R) = Aggressive to Reive participants
Fought for When Wills Collide.
Wields daggers and uses Dancer job abilities, including Curing Waltz on herself and others.
May use Healing Waltz when enfeebled. Kiters should take extra care.
Says "Those who dare oppose Sir Ragelise must answer to me!" before using her 2-hour

Melancholy Jig

, which inflicts AoE Doom.
Approximately 5000 HP.