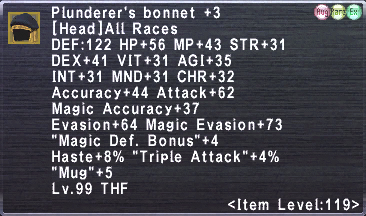 Statistics
Augments
Comes augmented with Enhances "Aura Steal" effect
Steals an additional buff.
Can be stored with a Porter Moogle using Storage Slip 27.
Other Uses
How to Obtain
Aurix's Relic Reforging Service
Aurix
at
Ru'Lude Gardens
(
G-8
) will upgrade
Plunderer's Bonnet +2
for players who have defeated the Wave 1
Dynamis - Windurst (D)
boss as Thief in exchange for the following:
The Reforged piece will be returned to you the next game day.
Notes
Added
Derivations
Plunderer: A word acquired from the Dutch plunderen via the Thirty Years War and applied in native use after the outbreak of the Civil War in 1642, meaning one who robs goods or valuables by open force.
Bonnet: A term now only used in Scotland to refer to a cap, especially in military headgear (Wikipedia)
Community content is available under
CC-BY-SA
unless otherwise noted.