Job: Black Mage
Family: Shadow
Crystal: Dark
Weak to: Fire, Light

Notorious Monster
Zone

Level

Drops

Steal

Spawns

Notes

72-73

1

A, L, H, HP

A = Aggressive; NA = Non-Aggresive; L = Links; S = Detects by Sight; H = Detects by Sound;
HP = Detects Low HP; M = Detects Magic; Sc = Follows by Scent; T(S) = True-sight; T(H) = True-hearing
JA = Detects job abilities; WS = Detects weaponskills; Z(D) = Asleep in Daytime; Z(N) = Asleep at Nighttime; A(R) = Aggressive to Reive participants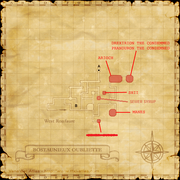 Notes:
Spawns around H-9/H-10 on the first map approximately every 60-72 hours
Killable by: 8 characters level 60-61; 5-6 characters level 70
Special Attacks: Manafont
Has an Additional Effect of Evasion Down on physical attacks.
Highly resistant to Silence, even with Elemental Seal. Possibly immune.
Ascalon has low drop rate, estimated 10% or lower.

Capable of being kited with no aggro in the square on map2 from:G8/9, H8/9, and I8

There is a chance that Drexerion the Condemned may be up as well. They will link unless pulled with a pet.
He and Drexerion the Condemned appear to share hate to some extent. (Links upon pulling)
Immune to Stun, But not to Stun Weapon skills.
Rather high casting intelligence compared to most caster mobs.
Community content is available under
CC-BY-SA
unless otherwise noted.