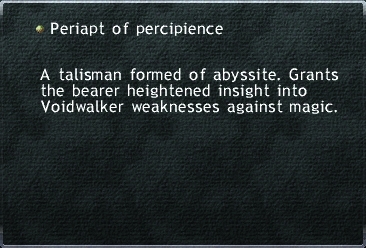 Periapt of Percipience
Description:
A talisman formed of abyssite. Grants the bearer heightened insight into Voidwalker weaknesses against magic.
Notes:
Similar to

Abyssite of Discernment, this periapt allows the player to occasionally see weaknesses in Voidwatch Notorious Monsters when casting spells on the VWNM. This item only gives a vague description. A

Periapt of Clarity is required for specific descriptions of weaknesses.