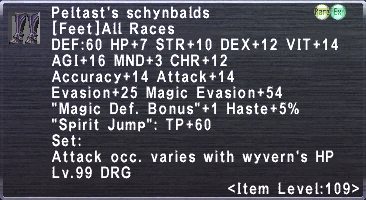 Statistics
Can be stored with a Porter Moogle using Storage Slip 20.
Other Uses
How to Obtain
Depending on the starting piece, trade the corresponding set of items to
Monisette
at
Port Jeuno
(
I-8
)
Your reforged piece will be ready the next game day.
Derivations
Peltast: A type of light infantry, originating in Thrace and Paeonia, who often served as skirmishers in Hellenic and Hellenistic armies. Peltasts' weapons consisted of several javelins (akontia), which may have had straps to allow more force to be applied to a throw. (Wikipedia)
Schynbalds: An early experiment in plate armour for the lower leg. Schynbalds were metal plates strapped over chausses. Each schynbald was a single piece of steel that covered the front and outside of the shin. Schynbalds first appeared in the 1230s or 1250s and remained in use during the fourteenth and fifteenth centuries. (Wikipedia)
Community content is available under
CC-BY-SA
unless otherwise noted.