Roblox: DeepWoken - The Loop
Play Sound
Family: Sheep
Crystal: Earth
Weak to: Lightning, Fire

Notorious Monster
Zone
Level
Drops
Steal
Spawns
Notes
Caedarva Mire
73-75
1
L, S, Sc

~10,000 HP


Nyzul Isle

Floors 1 - 19

1
L, S, Sc

??? HP


A = Aggressive; NA = Non-Aggresive; L = Links; S = Detects by Sight; H = Detects by Sound;
HP = Detects Low HP; M = Detects Magic; Sc = Follows by Scent; T(S) = True-sight; T(H) = True-hearing
JA = Detects job abilities; WS = Detects weaponskills; Z(D) = Asleep in Daytime; Z(N) = Asleep at Nighttime; A(R) = Aggressive to Reive participants
Notes (Caedarva Mire):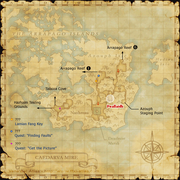 Chigoes will attack the player, even if a pet has hate on Peallaidh.

Appears second to last on Wide Scan
Unlike the Wild Karakul that are asleep at night hours, Peallaidh remains active at all times.
Notes (Nyzul Isle):
Historical Background
In folklore from Perthshire, Scotland, the Peallaidh is a water monster residing in rivers passing through forests and was noted for having a very shaggy mane of fur.