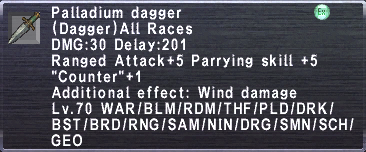 Statistics
Damage Per Second: 8.96
TP Per Hit: 55
Other Uses
Synthesis Recipes
None
Used in Recipes
Desynthesis Recipes
None
Obtained from Desynthesis
How to Obtain
Assault
Disclaimer: The listed ??? Item will not always appraise to the desired item.
Historical Background
Originally, palladium referred to a statue of anyone called "Pallas" In Greek and Roman mythology, a palladium was an image of immemorial antiquity on which the safety of a city was said to depend
Palladium is also a chemical element. It is a rare silver-white transition metal of the platinum group, resembling platinum chemically.
Community content is available under
CC-BY-SA
unless otherwise noted.