Job: Dragoon
Family: Sahagin
Crystal: Water
Weak to: Lightning

Notorious Monster
Zone

Level

Drops

Steal

Spawns

Notes

57

1

A, L, H

A = Aggressive; NA = Non-Aggresive; L = Links; S = Detects by Sight; H = Detects by Sound;
HP = Detects Low HP; M = Detects Magic; Sc = Follows by Scent; T(S) = True-sight; T(H) = True-hearing
JA = Detects job abilities; WS = Detects weaponskills; Z(D) = Asleep in Daytime; Z(N) = Asleep at Nighttime; A(R) = Aggressive to Reive participants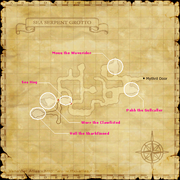 Notes:
Lottery Spawn from the various Sahagin past the door opened with a Mythril Beastcoin, around J-9.
Killable by: 6 characters level 57; 3 characters at level 63; Solo at level 69; duo by 51/52 BST using leech pets.; Solo by NIN/DNC level 59 with: 4/4 evasion merits, eva+ gear, AF legs, fight during nighttime, using all debuff and elemental tools. Took about 20 minutes. Also trio-able by BRD, DNC and SAM at level 54 with 2-Hour Abilities.
Mug ~200 gil with Assassin's Bonnet

Mug up to 875 with THF sub.

Drops ~3600 gil without THF sub.
Community content is available under
CC-BY-SA
unless otherwise noted.