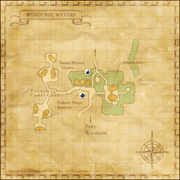 Walkthrough
You must change areas after completing the previous quest.
Talk to Kenapa-Keppa in the Rhinostery until he gives you this quest. You must talk to him after 7:00 Vana'diel time.

You must talk to Kenapa-Keppa five times and tell him you accept the quest before you can go to Mhaura. He will ask you to go the fourth time you talk to him, but you must talk to him a fifth time.
If you have the quest Say It with Flowers started, Kenapa-Keppa may just mumble about Tahrongi Canyon and how dangerous it is. Finish that quest first, then you can proceed with this one.

Go to Mhaura and look for Kotan-Purutan. He appears near the ticket booth at (I-9).
Only during night hours, (after 18:00) he will give you a Small Bag to take back.
You have to make it back to Kenapa-Keppa before dawn (6:00) for your reward.
Optional: Talk to Ohbiru-Dohbiru.
Game Description
Client

Kenapa-Keppa (Rhinostery, Windurst Waters)

Summary

You couldn't quite make out what Kenapa-Keppa was trying to say, but you guess he wants you to go pick up something from Mhaura. This doesn't look like your ordinary delivery job...?
Community content is available under
CC-BY-SA
unless otherwise noted.