Job: Paladin
Family: Orc
Crystal: Fire
Weak to: Water

Notorious Monster
Title Obtained: Overlord Overthrower
Zone
Level
Drops
Steal
Spawns
Notes
Monastic Cavern
85
1
A, L, T(S), Sc
??? HP
??? MP

A = Aggressive; NA = Non-Aggresive; L = Links; S = Detects by Sight; H = Detects by Sound;
HP = Detects Low HP; M = Detects Magic; Sc = Follows by Scent; T(S) = True-sight; T(H) = True-hearing
JA = Detects job abilities; WS = Detects weaponskills; Z(D) = Asleep in Daytime; Z(N) = Asleep at Nighttime; A(R) = Aggressive to Reive participants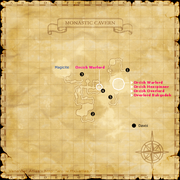 Notes:
Lottery Spawn from the Orcish Overlord around (J-7) approximately every 2-10 days since he was last defeated.
(see testimonials)
Special Attacks: Invincible, TP Absorb, MP Absorb.
Either Highlander's Targe or Nightmare Sword drops, but never both; Nightmare Sword being the more common drop.
Resistant, but not immune to Paralyze.
When defeated he says "Unghh... Foolish children of Altana. Defeating me won't change anything. There will be others from the north..."