Dead Cells Final DLC - The Loop
Play Sound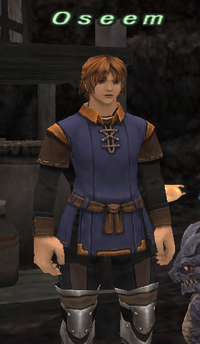 Oseem
Dialogue
Sorry, friend! We're still setting things up here. Why don't you come by again later?
Service:
Augments Reisenjima Geas Fete weapons and armor:

Chironic armor
Herculean armor
Merlinic armor
Odyssean armor
Valorous armor

Stores Taupe Stones, Pellucid Stones and Fern Stones, up to 250 of each. Stones stored in this manner cannot be retrieved again, and are consumed during the Arcane Glyptic augmentation process.
Notes