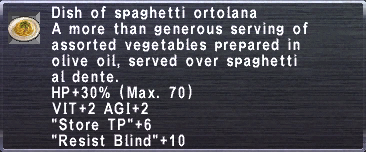 Statistics
Dish of spaghetti ortolana
A more than generous serving of
assorted vegetables prepared in
olive oil, served over spaghetti
al dente.
Stackable: 12
Food Effects:
(
30 min
,
All Races
)
Other Uses
Synthesis Recipes
Yield: Ortolana x 2
HQ 1: Ortolana x 4
HQ 2: Ortolana +1 x 2
HQ 3: Ortolana +1 x 4
How to Obtain
Auction House Category: Food > Meals > Breads & Rice


Can be obtained as a random reward from the Gobbie Mystery Box Special Dial and similar sources.
Only obtainable through synthesis.
Derivations
Pasta all'Ortolana is an Italian dish made by cooking various different vegetables before mixing them together with pasta (Italian: [ortoˈlaːna] translates "Greengrocer").(Wikipedia)