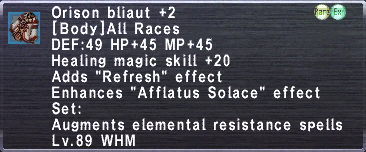 Statistics
Adds "Refresh" effect
Enhances "Afflatus Solace" effect
Increases Stoneskin effect from Cure spells from 25% to 35% of the cured amount and raises the capped amount to 400 HP. Must remain equipped during the casting of the Cure spell to take effect.
Adds Magic Defense Bonus +10 to Barspells of the appropriate element.
Set: Augments elemental resist spells
Bar Elemental spells will occasionally nullify damage of the same element.
Other Uses
How to Obtain
Cannot be auctioned, traded, bazaared, or delivered.


Cannot be obtained as a random reward from the Gobbie Mystery Box Special Dial and similar sources.