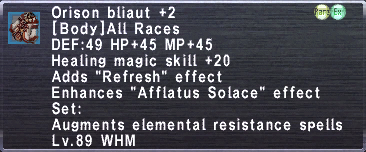 Statistics
Adds "Refresh" effect
Enhances "Afflatus Solace" effect
Increases Stoneskin effect from Cure spells from 25% to 35% of the cured amount and raises the capped amount to 400 HP. Must remain equipped during the casting of the Cure spell to take effect.
Adds Magic Defense Bonus +10 to Barspells of the appropriate element.
Set: Augments elemental resist spells
Bar Elemental spells will occasionally nullify damage of the same element.
Other Uses
How to Obtain
Community content is available under
CC-BY-SA
unless otherwise noted.